A strong cold front will move into the area later this evening. Ahead of it, we will be mostly cloudy, very mild and humid with scattered showers and thunderstorms through the afternoon. However, not all of you will see the rain during the daylight hours. Highs will be in the upper 70s.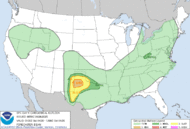 The cold front will arrive this evening. It will bring a squall line of thunderstorms with it as it moves through between 5 PM on the Northshore, 7 PM on the Southshore & New Orleans and along the coast around 10 PM to Midnight. Some of these storms could be strong to possibly severe. The main threat would be damaging winds along with some heavy rain. SPC has a Marginal Risk for areas along and north of I-12 for this evening.
Once the cold front passes through, we will become partly cloudy and breezy overnight with lows
in t
he upper 50s north of the lake and lower 60s south of the lake.
Wednesday looks to be a dry day with partly to mostly cloudy skies with breezy northerly winds. It will be a few degrees cooler with highs in the lower 70s. Wednesday Night will be partly cloudy and cool with lows in the 50s north and 60s south.
Southerly winds return on Thursday, and this will allow for isolated showers to develop during the day. Highs will be in the mid 70s.
Another cold front will move through on Friday now. This will set off scattered showers and thunderstorms. We will still be very mild with highs in the upper 70s.