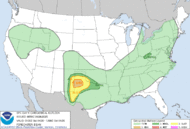 ***TORNADO WATCH UNTIL 2 PM**
Severe storms are already ongoing across the Baton Rouge area with a report of a funnel cloud in Maringouin, LA earlier this morning. These storms are moving NE and could move into areas north of the lake through the morning and then across the Metro New Orleans area late morning through early afternoon. Please stay weather aware today!
An upper level trough will move through today, and this will produce some warm air aloft over cooler air at the surface. This will set off scattered showers and thunderstorms. Some of the storms could be strong to severe with large hail being the main threat. However, a tornado can't be ruled out, but that best chance for tornadoes will be in South Mississippi to the Coast. SPC has areas from I-10 north in an
Enhanced Risk
, and this includes New Orleans, the Northshore and the MS Coast. Otherwise, we will be mostly cloudy with highs in the mid 70s. Tonight will be mostly cloudy and muggy with patchy fog. Lows will be in the lower 60s on both sides of the lake.
We will have a drier and very mild day on Wednesday with mostly cloudy skies. A shower is also possible. Highs will be in the upper 70s. Wednesday Night will continue to be mostly cloudy with a few showers possible as a cold front moves toward us. Lows will be around 60.
The cold front will move through on Thursday Morning, but we will not see much rain with it. It will be mostly sunny by mid-morning with breezy conditions. Temperatures will be only down a few degrees with highs in the upper 60s. Thursday Night will be much cooler with lows in the 40s on both sides of the lake.
The cooler weather sticks around on Friday as an area of high pressure sits over us. We will be mostly sunny with highs in the upper 60s. Friday Night will not be as chilly with lows in the 50s.
The weekend will see a big warm-up as the area of high pressure moves east of Louisiana. We will be partly to mostly cloudy with a few showers possible on Sunday. Highs will be back in the mid to upper 70s. Lows will be back in the 60s with fog possible each night.