*DENSE FOG ADVISORY for most of SE LA/MS coastal counties areas until 9 AM Thursday*
*MARINE DENSE FOG ADVISORY for Lakes & Gulf until 9 AM*
Watch out for more dense fog this morning, especially over areas of water. We will also see a few showers developing throughout the morning ahead of a cold front.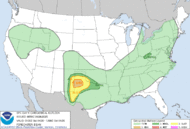 The rain and thunderstorms will become more widespread this afternoon and evening along and ahead of the cold front. Some of the storms could be strong to severe with damaging winds and large hail. SPC has us in a Marginal Risk for severe weather. It looks like a broken line of storms will move through the Metro New Orleans area between 2 to 6 PM. We will also have heavy rain today and we could pick up 1-2" of rain. Watch out for some minor street flooding issues today. Highs will be in the mid 70s.
The rain will come to an end tonight as the cold front moves east of Louisiana. It will remain mostly cloudy and mild with dense fog possible. Lows will be in the lower 60s.
Friday will be a quiet day between the storms today and a stormy weekend. It will be partly cloudy, mild and muggy with near record highs in the upper 70s.
The weather will go downhill starting on Friday Night into Early Saturday Morning. A disturbance will track across the state and this will move into a very unstable atmosphere. This will set off scattered thunderstorms that will likely be severe. They could contain damaging winds, large hail and a few tornadoes. SPC has us in a Slight Risk for severe weather during this time.
Once the disturbance moves through, we will see a lull in the rain until Saturday Afternoon as the cold front moves over us. Then another round of showers and storms will develop and move through. These storms could also be strong to severe. Highs will be in the upper 70s and it will be breezy.
The rain and storms will continue into Saturday Night/Sunday Morning. We will have to keep an eye on these as well. Lows will be around 60.
The cold front will move through on Sunday. We will still have some scattered showers and storms, but the atmosphere will not be as unstable, so these storms are not expected to be severe. Otherwise, it will be mostly cloudy and cooler with highs in the upper 60s.
Then cooler and drier air arrives to start the new week with partly cloudy skies and highs only in the 60s. Lows will be in the 40s.