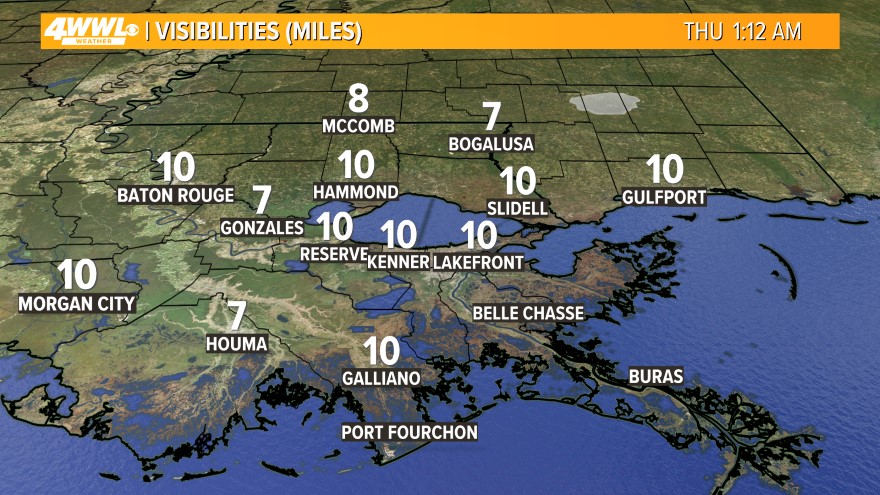 We are not seeing as much fog this morning as we did over the weekend. Visibility could drop to less than 1/4 mile at times. There could be a few restrictions on the Causeway, so plan ahead for some delays.
More of the same weather is expected as we start this new work week. High pressure aloft remains over Florida and the Eastern Gulf of Mexico. This continues to keep the Spring-like weather over us through Tuesday. Once the fog dissipates, we will be mostly cloudy, mild and humid with a slight chance for rain today and Tuesday. Highs will be in the mid 70s.
Tonight will be mostly cloudy and muggy. We will have a better chance for dense fog overnight. Some of the fog could lingering through part of the morning on Tuesday. Lows will be in the lower 60s.
Wednesday will be the transition day from drier weather to wetter weather. A cold front will stall just north of us along I-20. A second cold front will be moving east over Texas. They will be close enough to help set off spotty showers during the day. It will still be mild with highs in the mid 70s.
The Texas cold front will move into the area on Thursday. It will set off scattered showers and thunderstorms. Some of the storms could be strong and contain heavy rain. Models are showing we could pick up 1-2"+ of rain. Highs will be in the mid 70s. The rain and storms will continue into Thursday Night until the cold front moves through. Lows will be around 60.
Friday will be a dry day. We will have plenty of sunshine with highs in the mid 70s, but do not get used to the nice weather. Our next system will be headed our way for the weekend.
Our next cold front will arrive on Saturday and it moves through on Sunday. We will be mostly cloudy with scattered showers and storms each day. Some of the storms could be strong and contain heavy rain again. We could pick up another 1-2". Rain totals between Thursday and Sunday could be around 1-3"+, but I'm not expecting any flooding issues since it has been relatively dry lately. Highs will be in the lower 70s and lows around 60 each day.