*Marine Dense Fog Advisory Until Noon*
*Dense Fog Advisory For Land Areas Until 9 AM*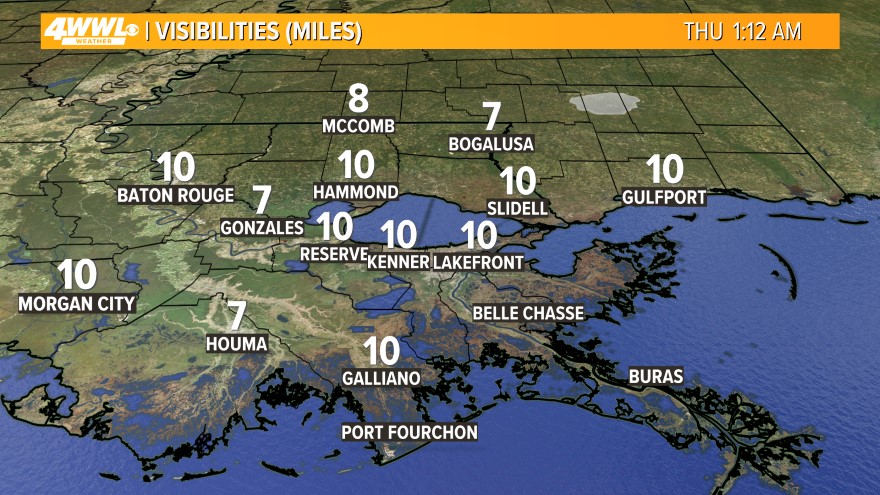 We are starting the day with plenty of fog across Southeast Louisiana. The thickest fog is over the lakes and coast where a Marine Dense Fog Advisory is in effect until Noon. It is likely the fog will linger over areas of water through the morning and into the early afternoon. Over land areas, we also have some fog, and some of it is pretty dense. Use caution while driving around today.
Otherwise, where we are not foggy, we will have partly cloudy skies this afternoon, so plan to see some sunshine. There is a lot of moisture is the lowest level of the atmosphere, and that is why we have the fog. Above this, is dry air and that is why we will be partly cloudy today. It will stay mild with highs in the mid 70s.
More dense fog is expected tonight - especially over areas of water and the adjacent land areas. Where is it not foggy, it will be mostly cloudy. Lows will be a little cooler thanks to the dry air aloft as they fall to the mid 50s north and upper 50s south.
This weekend will be pretty nice with morning dense fog each day, then partly cloudy skies by the afternoon. Highs will stay in the mid 70s. Lows will be in the 50s north and 60s south.
More active weather is forecast to return next week. Originally, it looked like a cold front was going to move through the region, but the latest forecast models show the front staying north of us. That means we will stay very mild and humid all week. We will see an increased chance for rain each day as a few disturbances move across the Gulf South. The best chance for rain will be on Wednesday and Thursday with scattered showers and storms likely. Highs will stay in the mid 70s and lows in the 60s all week. Keep the short sleeves handy!!