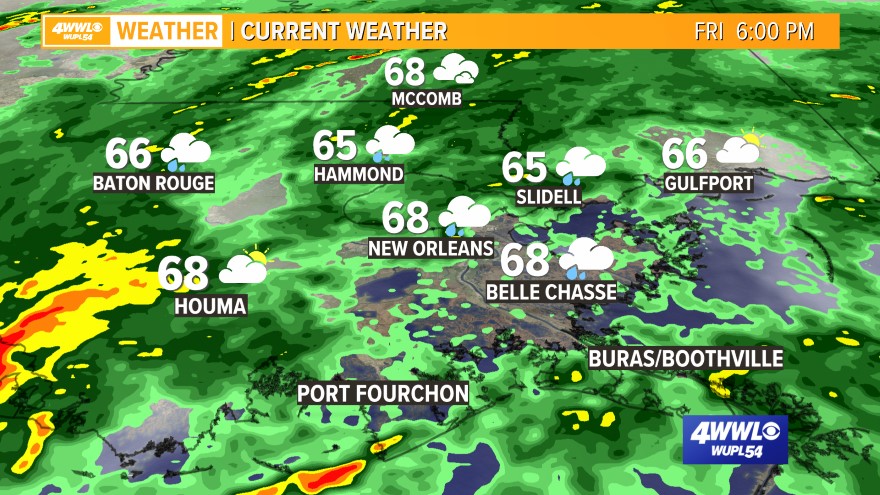 We will have pretty quiet weather this weekend with below average temperatures, so it feels like January. An area of high pressure will remain west of us over Texas. This will keep NW to W winds over us, and that means it will stay chilly all weekend. A disturbance aloft will move from the Western Gulf of Mexico toward Florida. This will stay in the Gulf, but we will have clouds from it moving over us today. This will make it mostly cloudy with a few stray showers possible along the coast. Any rain seen on radar over land will just be virga, or rain that evaporates before it hits the ground. Highs will be in the mid 50s, so keep the heavy coat with you all day.
The clouds will start to decrease tonight as a trough of low pressure moves across the region, and it will become mostly clear. Lows will be in the
30s
north with some frost, so protect plants and pets. South of the lake we will be in the 40s.
Sunday will be a beautiful day with plenty of sunshine, but it will stay cool. Highs will be around 60. Sunday Night will stay clear and cold with lows in the
30s
north and 40s south.
Looking ahead into next week...we will have more quiet weather all week with a slow warm-up each day. Monday and Tuesday will be mostly sunny with highs in the 60s. Lows will be in the 40s on both sides of the lake.
Southerly winds return Wednesday through Friday as the area of high pressure moves east of Louisiana, and this will warm us back into the 70s with partly cloudy skies each day. Lows will be in the 40s north and 50s south.
from January 28, 2014
A Look Back: 3 years ago today we had a Winter Storm moving across the Gulf South States. This made a huge mess across the region with a wintry mix of rain, sleet, freezing rain and some snow. The Northshore felt the worst of it, but we did have some icy roads and bridges across Metro New Orleans that caused some closures. Fortunately, we don't have to deal with any wintry weather this weekend!! The image to the right is the radar and temps. from January 28, 2014.