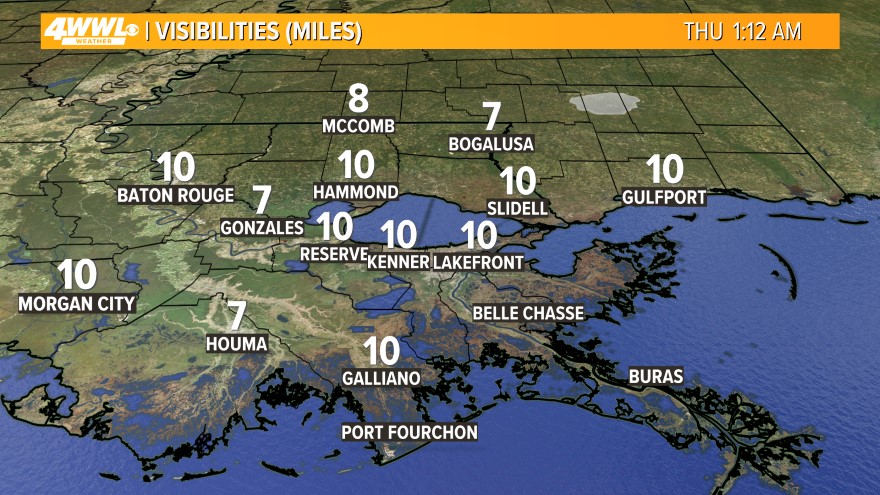 DENSE FOG ADVISORY in effect until 10 AM Monday for much of Southeast Louisiana near bodies of water. Visibility could drop to a quarter-mile or less. Drive slowly and carefully. It goes until Noon today for areas Lakes.
More warm, humid and foggy weather expected for today through Wednesday. Southeast winds continue to pump in Gulf Moisture and warm temperatures over the region. This means we will continue to be mostly cloudy with isolated showers, and dense fog. Some of the fog could last for much of the day over bodies of water. Highs will be in the upper 70s each day. Lows will be in the 60s on both sides of the lake.
A cold front will finally move through on Thursday with spotty showers.
Highs
will be around 70. It will turn much cooler on Thursday Night with clear skies. Lows will be in the 40s.
High pressure will briefly sit over us on Friday, and this will keep us clear/sunny. It will be a cool day with highs around 60. Friday Night will be cool/chilly with
30s
north and 40s south.
We will warm up headed into New Year's Weekend. Saturday will be partly cloudy and mild with highs in the upper 60s. It looks like we could see a few showers for New Year's Eve celebrations, Saturday Night. Then it will turn rainy on Sunday as another cold front moves through. Expect scattered showers and thunderstorms. Highs will be in the lower 70s.