FLASH FLOOD WATCH is in effect until 7 PM Today for much of Southeast Louisiana - except the Coastal areas. An additional 1-3" of rain will be possible, which could lead to more street flooding. Remember, don't drive on flooded roads!!
Get ready for another round of heavy rain and storms today! A cold front remains stalled NW of our region again today, and when you add that to the very moist air mass over us, that will lead to a heavy rain threat. The storms will develop this morning and continue all day. This will once again cause issues with Jazz Fest and the Zurich Classic. Some of the storms could be strong to severe with large hail, damaging winds and even a tornado or two.
Rain totals could be around 1-3" with some areas receiving even more. This is why the NWS extended the Flash Flood Watch until 7 PM tonight. High temperatures will try to make it into the lower 80s.
The rain and storms will taper off this evening, and then briefly dissipate tonight. Storms are expected to redevelop toward daybreak on Monday. Otherwise, it will be mostly cloudy, muggy and mild with patchy fog. Lows will be in the 60s north and 70s south.
Monday will be a repeat of today with storms developing in the morning and lasting throughout the day. Expect more heavy rain, and the flash flood watch could be extended as additional rain totals could be around 1-3". Highs will be in the lower 80s.
FINALLY, this front will move through on Tuesday, but it will still give us one more day of rain and storms. However, it the forecast models are not showing as many storms. Highs will be in the lower 80s.
A much needed break in the rain will arrive on Wednesday and we will stay dry through the weekend. We will also see a break in the humidity too! Get ready for plenty of sunshine and highs in the upper 70s to around 80. Lows will be in the 50s north and 60s south. A VERY refreshing end to the week!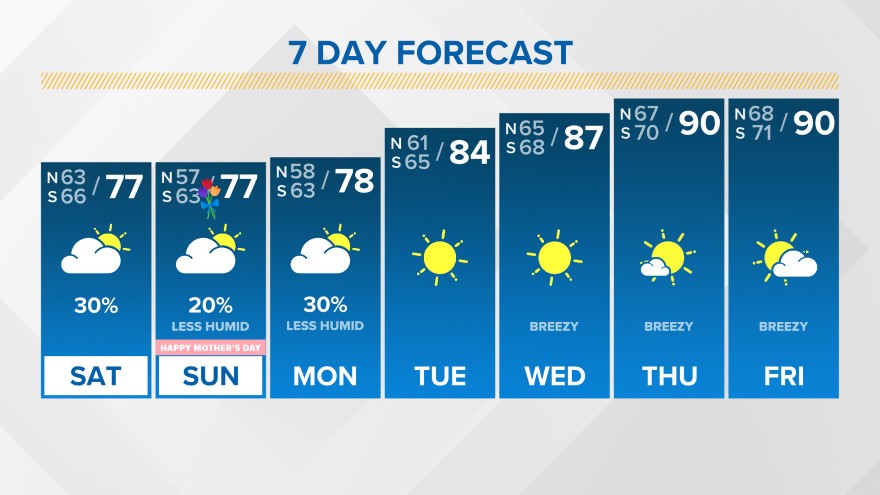 Stay tuned to my social media sites and WWL-TV for weather updates today! -Meteorologist Dave Nussbaum