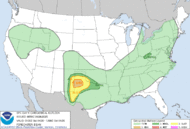 A Stormy Afternoon:
A cold front will move into Southeast Louisiana this afternoon and it will set off scattered showers and thunderstorms. Some of the storms could be strong to even severe. SPC has put most of the area in a Slight Risk for severe weather. The main threats would be damaging winds and large hail. We will also see frequent lightning strikes and heavy rain with any storm. However, it will not be a washout tonight, so bring you umbrella to any of the festivals tonight. High temperatures will be in the mid 80s before the rain begins.
Tonight Forecast: The storms, some strong to severe, will continue into the evening hours. Temperatures will fall into the 70s. The bulk of the rain and storms will end overnight with only a spotty shower possible as the cold front stalls along the Louisiana Coast. It will be mild with lows in the 60s.
Wet Weekend:
The front will remain stalled along our coast on Saturday. Depending on how far south it goes will depend on how much rain we will get. Right now it looks like we will have mostly cloudy skies with scattered storms developing during the afternoon. Any storm will have heavy rain. Again, it will not be a washout, so you can attend any of the festivals across the area. High temperatures will be around 80 in New Orleans, but will only be in the 70s for the Northshore.
The cold front will retreat back to the north as a warm front on Sunday. This will bring up the chance for rain starting early in the morning and for the rest of the day. Some of the storms could be strong with gusty winds and heavy rain. Once again, Sunday will not be a washout, so keep your umbrellas handy if you are out and about. Highs will be around 80.
Outlook For Next Week: It looks to be pretty soggy. Each day we can expect scattered showers and thunderstorms with highs in the 80s and lows in the 60s/70s. Welcome to Spring!
Keep it tuned to WWL-TV today and this weekend for the latest on our stormy forecast and how it will impact the local festivals. Also, follow me on Twitter and Facebook for weather updates as well.